A Product Manager is NOT a Product Marketing Manager or a Brand Manager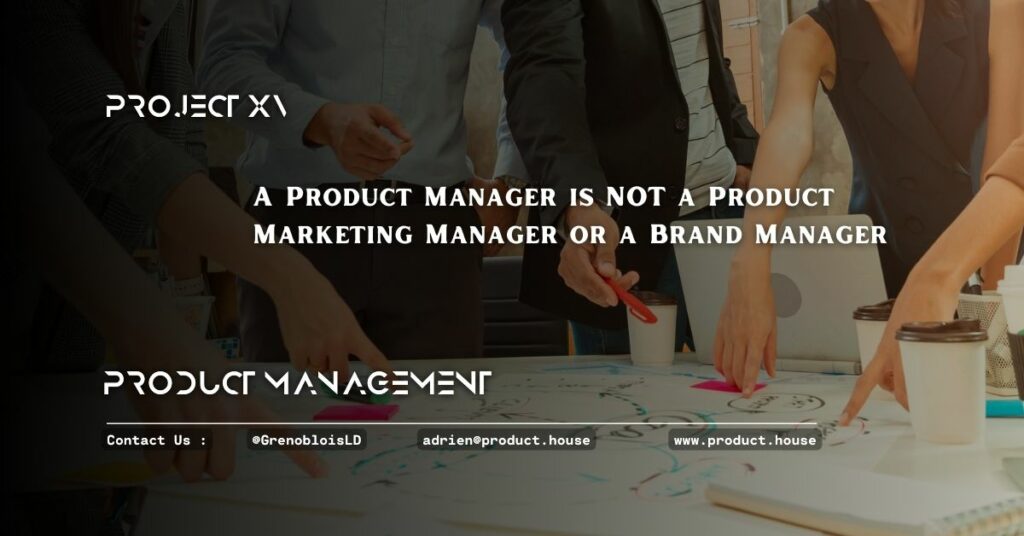 ---
What IS a Product Manager in Simple Words?
Product management is the job of reducing risk for the company. The right product manager will deliver a product that is useful, usable, and feasible.
If he can do his job well, he will have reduced risk as much as possible to the company. If he doesn't, there's no point in spending time and money on building and launching a product.
What is a Product Manager?
The best way to answer these questions is to start with a short and easy to grasp definition.
A Product Manager is a core member of a product development team who manages the entire lifecycle of a product from conception through development, testing, and marketing, and they're involved in day-to-day decisions about product development.
Although the role of a product manager is becoming more and more of a buzz in the 21st century (and will evolve in its set of scope, skills, frameworks, and tools), it's easy to get lost in the mix when it's broken down into a variety of different roles.
Every company has a product, and the product manager is responsible for ensuring the product is designed, developed, and launched in a way that creates value for the company's customers as well as the business itself.
How Can We Define a Product Manager Role?
A product manager's primary function is ensuring the product is designed to meet customers' needs and that it's developed with the end-user in mind.
While the world of product management can vary by company, skill, and location, there are several common traits that all product managers share.
There are many different roles that go into producing a product. In order to be effective as a product manager, you need to understand what it takes to be good at your craft.
Key aspects of being a good product manager include and are not limited to:
having the ability to prioritize,
stay organized, and also
being able to communicate effectively.
What does a product manager do?
A product manager is responsible for the success of the product, ensuring that it meets all the needs of end users. A product manager must communicate with users, market research team, business analysts, software developers, and designers to create a product that is innovative and desirable.
At the same time, the product manager also works on the development of new products and makes sure that current products are properly aligned with market expectations.
In the world of digital marketing (that we integrate into Product.House), your product manager role is to be the liaison between the marketing (business teams at large) and the engineers guiding them into building the right products to meet consumer expectations.
Product managers do not describe what the market wants, but rather what the people need. If product managers do not provide clear product roadmaps, engineers will deliver products that lack consumer appeal.
You could find yourself held accountable to finding new ways to drive visitors and leads towards a website or product too.
Product Management is about being a champion for the customer and user, first and foremost, every step of the way.
Product Manager, Product Heroes?
Product managers are the heroes who guide the overall success of their product. I know it sounds a little too much but bear with me.
They shepherd the product through the entire development process, giving engineers and designers daily guidance on how things should work and what to build next.
Product managers define product functions and workflows and communicate key information to internal and external stakeholders.
In every team, there is a responsible person who makes sure that all those involved in creating the product are on the same page and working towards the same goal.
What About Some "should not-s"?
A product manager should not necessarily (or have to) be agile-obsessed, a coder or get a full stack development Bootcamp certificate or a Master in Computer Science.
Product Managers come from very different backgrounds and if you read as many job descriptions from employers from startups to multinational well-known companies, you will be surprised how still today (the job role is still in its early years in 2021) there can be so many misconceptions.
A Product Manager Is Not a Brand Manager
What is a Brand Manager?
Brand managers are essential to marketing success and business growth. Here's what you should know about brand managers and their role in the marketing mix.
A brand manager is a business executive who is responsible for the day-to-day management of a brand.
The brand manager is a key member of the marketing team and is responsible for managing the brand's reputation through various touchpoints. These touchpoints may include media, social, events, and other marketing initiatives.
Brand managers are generally the people within a company that is responsible for identifying and developing new products, managing the branding of existing products, and creating marketing content for all of those products. They are also responsible for liaising with agencies and other departments to ensure that the marketing materials are on point.
As such, a brand manager holds the responsibility of managing a brand's image, reputation, and value in the marketplace, as well as its fit with the company's product offering (in charge of defining a company's four Ps: product, price, placement, and personnel).
A brand manager's primary responsibility is to build, maintain, and deliver a brand that is compelling to the consumer and makes a positive contribution to the bottom line.
A brand manager is responsible for representing a company's mission, image, and message. He or she is also responsible for the development and implementation of corporate policies, as well as for communicating this message to employees and external audiences.
A brand manager is an individual who has an in-depth understanding of the different business units of a company. They work with business leaders and team leaders across the organization to ensure a consistent business strategy is in place.
A Product Manager Is Not a Product Marketing Manager
What is Product Marketing?
Product marketing is the process of promoting a product by the means of making it broadly available to potential consumers. It does this by being an intermediary between product development and increasing product awareness. Product management deals with the basics of product development within a firm, whereas product marketing deals with marketing the product to prospects, customers, and other interested parties.
Product marketing is the process of promoting a product by the means of making it broadly available to potential consumers. It does this by being an intermediary between product development and increasing product awareness. Product management deals with the basics of product development within a firm, whereas product marketing deals with marketing the product to prospects, customers, and other interested parties.
A product marketing manager promotes your product and helps it succeed! While you may share the same role in the company, there are often huge differences between what you actually do in the office.
Product managers and product marketing managers must be closely aligned to smoothly develop product features and campaigns to fit customer needs. Each role is essential to the business, but these jobs are different, and each is needed for success.
As previously said, product managers work with engineering and operations to develop new features. They help define the right features at the right time with a focus on ROI.
Product marketing managers (PPMs) work to define customer expectations and engage customers in order to meet those expectations.
Product marketers do the heavy lifting of product development, including sales and marketing materials, product descriptions, marketing materials required to get the right message out, sales materials required to get the right message in, packaging design, user interface design, and more.
Relations Product Marketing and Product Management
To help you better grasp the differences and complementarities let's talk about some of the measures documents both are responsible for:
product managers issue a product requirements document (PRD) for the engineering team,
product marketing managers issue a market requirements document (MRD), that will be used by the PM to create the above-mentioned PRD.
As you already understand, their set of responsibilities are not cookie-cut and may differ across companies. In some instances, the product manager formulates both MRD and PRD, while product marketing concentrates on outbound activities such as, but not limited to product demonstrations, marketing material such as cheat sheets, datasheets, white papers to name a few.
Your job is to remove roadblocks from your team so that they can do their best work.
Product Management Is Not Product Marketing… but there are some overlaps
It's hard to say if there are any universal definitions of product management vs product marketing, but there are some commonalities.
Each position has certain common responsibilities, depending on the company or industry. Product marketers and product managers both share the same great responsibility to the customer, yet solve it in different ways.
Both are invaluable at working across teams (product, marketing, sales) and there is not one and unique way to describe either role.