A Product Manager is not a CEO of a Product or Product CEO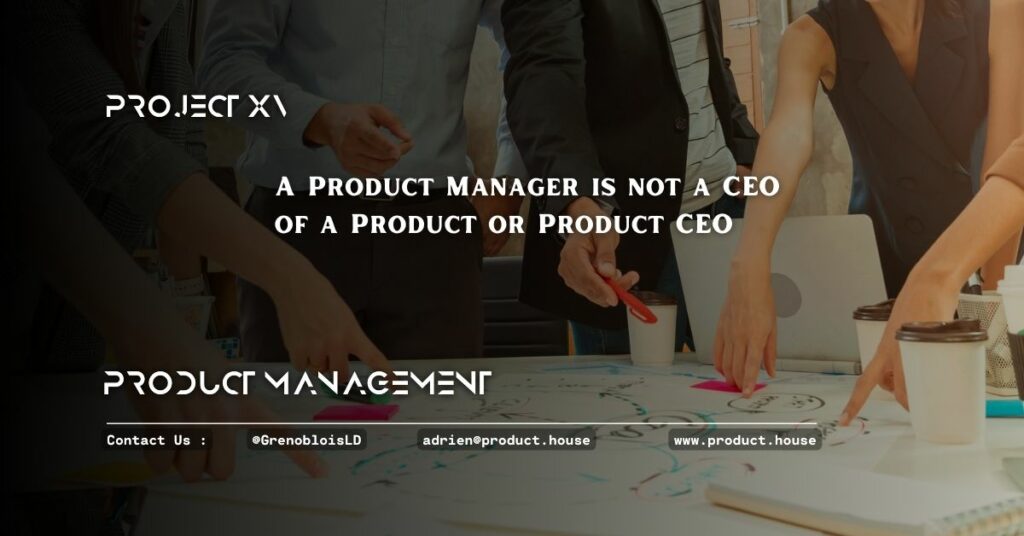 ---
It's an unfortunate misconception that has long-lived. The CEO role means a lot more in terms of power over the decision to build, invest, hire, fire, negotiate than a product manager can even dream of. It's not bad per se. It's just not the same job.
Even a product leader can't ambition to bear this burden. In many ways, this is a very heavy burden.
Product managers are responsible for the end-to-end management of a product. This is not an easy task, and it requires a very special set of skills. That, however, does not make him or her a CEO of anything.
As a Product Manager, your job is not to decide on the new product venture creation.
You are Not a Business Owner
You do not have a budget dedicated to new product endeavors but you actively participate in choices if it makes sense within the company culture.
Again, and I'll mention this often: there is no one size fit all in the area of product management. Many product management-stamped roles do not look like the standard definition anyway.
The technology landscape changes so fast, the team structure can be organized so differently from one department or organization to another, and the type of product you build can require so many different specifics, that from one place to another the responsibilities could look like a completely different job.
But one thing is sure: the business decision-making process is not in your hand or under your control. You are not a Product CEO full point.
The decision to invest or not can surely be influenced by your very much expected inputs but certainly not as a CEO can.
It sounds like a dream collapsing but you will have way enough responsibilities already to care about the CEO job.
But, ok, let's play a little for the sake of the argument:
You ARE The CEO of The Product
That means you will have to:
study the market,
evaluate the competition,
understand players in this market, then
write users stories,
test assumptions,
prepare a first serious draft for an attractive business plan to read.
Then it's maybe time for:
building a first very minimal prototype, then
an MVP,
introducing it to potential investors, and
negotiating with banks for preferential rates on potential loans.
But of course, in the meantime, you'll have prepared:
a detailed Profit and Loss statement,
partly extracted from your income statement and balance sheet 50 pages file (Oh! Yeah, I hear people shouting: but the business model canvas is enough nowadays, and a one-page Sales Pitch plus a 7 pages Pitch Deck fashion with some flashy numbers and colored pie charts are good enough. Well, we'll talk about some misconceptions about it in a complete detailed article).
It means that resources:
financial,
human, and
technical,
as much as product sales forecasts will have been:
Evaluated,
tested, and
agreed upon with your co-founders.
Oh, and speaking of co-founders, you'll have already:
negotiated share agreements,
discussed it with investors first, and
hoped not having to face headaches, fights, and bad feelings once you'll have to present these agreements to those people with whom you'll spend 18 hours a day, in the long, very long, and intense foreseeable future.
Of course, you'll have already spent enough time (that means A LOT of time!):
identifying,
Discussing, and
convincing early investors to fund the venture.
You'll have already assembled the best team for the job. And that means:
sourced,
interviewed,
negotiated,
recruited the best talents for the job, and
maybe already fired some of them since hiring mistakes is a norm.
You'll have:
managed all aspects of the project launch,
attended demo days,
shook a whole lot of hands,
met with countless new potential investors who most of them won't care much about your product, business, and success.
Depending on your business funding needs and situation:
you have maybe already burnt most of your cash (for good reasons: you scale fast; or difficult to sell reasons: you are overstaffed, late in your planning, etc) and
you are on the road again to convince new investors in a new round trip (you maybe just raised love money, or you maybe are at round A already),
and this never ends… I could go on until the end of (business venture) time.
And did I mention all the works and negotiations implied in dealing with:
third party,
infrastructure providers, and
consulting firms:

software developers,
brand managers,
web development agencies,
Marketers,
graphic designers, etc, etc, etc.
Being in charge of SOME of the responsibilities I mentioned above could make you feel like a decision-maker. In some Product Manager way, you are.
But, let's admit that your area of responsibilities as a product manager will be pretty limited compared to those of a decision-maker. And as limited as it could be, believe me, it's already a lot.
By admitting this, you will certainly avoid unnecessary stress and focus on becoming a better PM in your (not really that) limited area of competencies, evolve to product lead, and why not become a startup co-founder or a solopreneur.
And then, you'll measure the gap.
Product Manager vs. the CEO
A CEO owns all or part of the company, you typically own nothing.
A CEO makes decisions that affect the whole organization. You have a strong influence on what concerns your product.
Can a Product Manager Become a CEO
Of course, and in startup creation you could make a real positive impact on the overall success of the company depending on the width and depth of your previous product and the relevancy, and the correlation between your experiences and the industry in which you want to shine as a business owner.
You will be expanding your horizons from a product point of view and product vision to a wider depth of field: decision-making point of view and company vision.
How Product Management Practice Helps You to Become a CEO
Get an MBA on the cheap
You'll be involved in dealing with Decision Making Practices. You'll need to fill the gap from going from product-related decision making to Overall Entity Decision Making.
How do you do that? Well, if you take a look at any MBA curriculum, it could help a little. Let's sort that out by avoiding the MBA training altogether: time-consuming, more oriented to people willing to stay employed rather than build a company, and the theory is way too heavy to be actionable.
Youtube, Udemy, Google are some of your best friends if you want to build.
Expand your views to all aspects of the company you work in
Meet with people you are not supposed to in your everyday work.
Expand your views by talking with logistics, transportation/delivery, finance, human resources, and colleagues you did not know their work even existed.
And learn about their job, skills, practices.
Listen to the issues they encounter during their workdays.
Ask them if they had to restructure their job to what it looks like, how would they do that.
Be cautious with that, however. Depending on the company culture, this advice could put you in a hot spot and tough position once you have to justify your reasons for wandering around. Do this with a smart non-spying-like attitude.
The whole goal is to expand your views towards a way wider angle one.
Educate Yourself
Try to read more about leadership, entrepreneurship, emotional intelligence.
Listen to youtube interviews of great business consultants, business owners, and especially small business owners, bootstrappers, and solopreneurs.
Learn more about growth marketing, UX design, software development, startup funding, co-founders shareholding, business model canvasing, lean startup.
Build Stuff
Product Managers like UX Designers would highly benefit in "showing" instead of only "talking" about their present and past responsibilities by building their product portfolio.
You could divide your present or future portfolio into two categories: "Team-based Products" "Solo-Built Products". Choose a more appropriate phrasing that serves you better maybe. It's up to you depending on the customer/audience culture you help to solve a problem.
First, create products. Start small, no need to become a software developer. You will find all the no-code tools you need to build web and mobile applications.
Practice Pitching
Pitch your new products often. Attend special meetup events for this. Try sales pitching them.
Experiment With Startup Game and Simulators
There are a number of them that range from simple case studies to full-fledged online multiplayer applications.
Product Manager CEOs
Here are some interesting names that could inspire you.
Susan Wojcicki, YouTube
Ivan Zhao, Notion
Stewart Butterfield, Slack
Sundar Pichai
Intimidating? Maybe, but don't be. These are normal people that also benefited from opportunities that very few did. The luck factor, hard work, serendipity, networks, and being there at the right can make or break careers, and "once on top" never supposes "always on top".
Take this very short list as a way to motivate yourself (although motivation is never enough).
As you understand by reading these names, you could prioritize the salary+stock-options+benefits CEO social ladder climbing path or a business owner/business starter CEO path.
So, not only becoming a CEO is already some achievement you could be proud of, being a business creator and CEO of an even very tiny organization, suppose another set of skills, challenges, for a different worldview all leading to a very very different lifestyle.
Don't get hooked up in thinking that being a CEO of an enormous organization will make you fill the ranks of the happiest people on earth because it won't.
Don't fall into the trap of believing that power and money can make you invincible.
Being a "small" organization CEO could make you way happier depending on the industry, the business model, and your life purpose.
A nice little business on autopilot that makes little money (but enough to make you financially independent), while you sleep, will give you the freedom you will need to experiment in all different aspects of your always expanding life (physical, spiritual, emotional, psychological). There is so much to say along those lines that I'll develop dedicated articles in the specific blog category.
Conclusion
Build the best product you can with your team.
Focus on becoming a real reference in product thinking in your company.
Build stuff that matters and solve real problems and/or make people's lives better, easier or more fun.
And Never Ever introduce yourself as a Product CEO.