What Makes a Successful Apprenticeship Program? Top Tips and Examples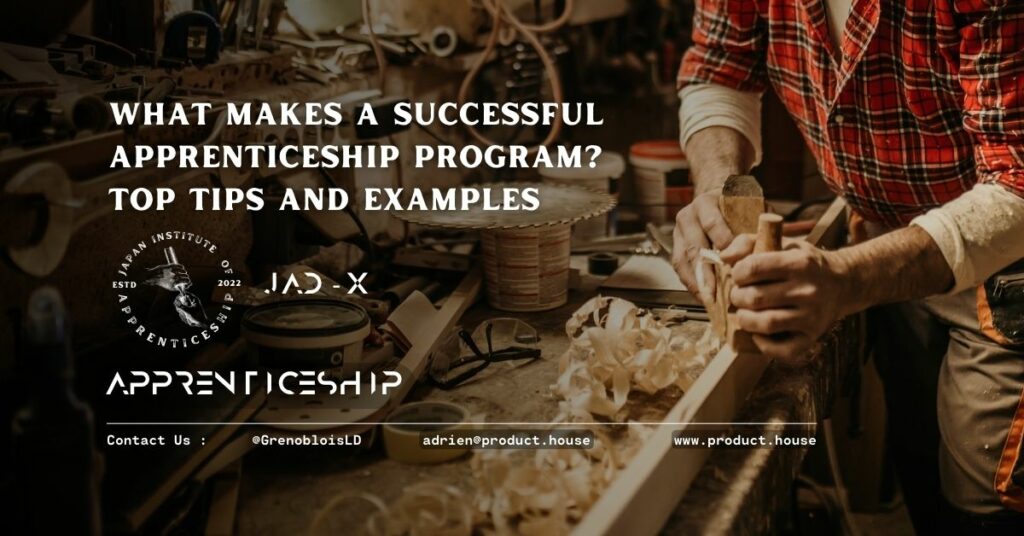 Apprenticeship programs are a valuable tool for developing skilled workers in a variety of industries. But what makes a successful apprenticeship program? Here are some top tips and examples to help guide your program development.
Clear Goals and Objectives: A successful apprenticeship program starts with clear goals and objectives. What skills and knowledge do you want your apprentices to develop? How will you measure success? Having clear goals and objectives can help guide the development of your program and ensure that all stakeholders are aligned.
Effective Training and Instruction: A successful apprenticeship program requires effective training and instruction. This can include a combination of on-the-job training, classroom instruction, and mentorship. The training and instruction should be designed to help apprentices develop the skills and knowledge they need to succeed in their chosen field.
Strong Employer Engagement: Employers play a critical role in the success of apprenticeship programs. Employers should be involved in the design and development of the program, as well as in the ongoing training and mentorship of apprentices. Employers should also provide opportunities for apprentices to apply their skills and knowledge on the job.
Comprehensive Support Services: Apprenticeship programs should provide comprehensive support services to help apprentices succeed. This can include academic support, career counseling, and financial assistance. Support services can help ensure that apprentices are able to focus on their training and development without being hindered by external factors.
Positive Workplace Culture: A successful apprenticeship program requires a positive workplace culture that values learning and development. Employers should foster a culture of mentorship and collaboration, and should provide opportunities for apprentices to engage with their peers and with other professionals in their field.
Examples of successful apprenticeship programs:
The Plumbing-Heating-Cooling Contractors National Association (PHCC) Apprenticeship Program, which provides comprehensive training in plumbing, heating, and cooling for apprentices across the United States.
The Siemens Apprenticeship Program, which provides training and development opportunities in a variety of fields, including engineering, IT, and manufacturing.
The Mercedes-Benz Apprenticeship Program, which provides comprehensive training in automotive technology for apprentices in the United States and around the world.
By following these top tips and drawing inspiration from successful apprenticeship programs, you can develop a program that provides meaningful opportunities for learning and career development for your apprentices.
FAQs:
Q: What are the benefits of participating in an apprenticeship program? A: Apprenticeship programs offer many benefits for both apprentices and employers. For apprentices, they provide hands-on training and experience in a particular trade or industry, which can lead to increased job opportunities and higher wages. For employers, apprenticeship programs help to develop a skilled workforce and can lead to increased productivity and cost savings.
Q: How long does an apprenticeship program typically last? A: The length of an apprenticeship program can vary depending on the industry and the skills being developed. Some programs may last a few months, while others may take several years to complete. It is important to research the program length before applying to ensure that it fits with your career goals and timeline.
Q: What types of skills can be developed through an apprenticeship program? A: Apprenticeship programs can be designed to develop a wide range of skills, including technical skills, communication skills, problem-solving skills, and teamwork skills. The specific skills developed will depend on the industry and the goals of the program.
Q: Can apprenticeships lead to a permanent job? A: Yes, many apprenticeships are designed to lead to permanent employment. In fact, some employers use apprenticeship programs as a pipeline for recruiting and developing new talent for their organizations.
Q: What are the eligibility requirements for apprenticeship programs? A: The eligibility requirements for apprenticeship programs can vary depending on the program and the industry. Some programs may require a high school diploma or equivalent, while others may have more stringent educational requirements. Other eligibility requirements may include meeting certain age or health requirements, passing a drug test, or having the right to work in the country where the program is located.
Reminders:
Research your options carefully before applying for an apprenticeship program
Understand the eligibility requirements and funding sources for each program before applying
Apply early and follow the application process carefully
Stay focused and committed throughout the program to get the most out of your experience
Take advantage of networking and career development opportunities to maximize your chances of success.
Books and References:
"The Complete Guide to Apprenticeship and Traineeship" by Chris Andrews
"The Benefits and Challenges of Apprenticeship: A Global Perspective" edited by Lorna Unwin and Alison Fuller.
"Youth Apprenticeship in America: Guidelines for Building an Effective Program" by Eric F. Lichter and James R. Stone III
"Women's Apprenticeship in the Atlantic World" by Karin Wulf
"The Path to Full Employment: Apprenticeship for the Skilled Trades" by Robert Lerman.